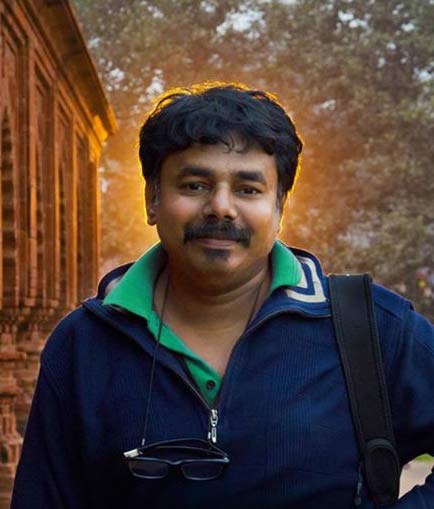 Incredible India Photography by Subir Basak | After falling in love with the colors and rituals that life had to offer, Subir wanted to capture moments for eternity.Formally trained at "Chitrabani" (A premier Kolkata based Art-Institute), he soon transitioned from being an analog photo-journalist by profession to a digital photographer by passion.
In his ongoing yet eventful photographic journey for the last 30 years, his images have always managed to speak more than he ever did as a person. His portraits or capturing moments have always revealed the untold story of his subjects be it at Kumbh mela or at Diwali or Holi. His photo stories of Incredible India have always surprised his viewers with something curious said between the lines of composition & texture.
His passion for photography has also made him an ardent traveller always on the prowl with his strategic equipment by his side. There is hardly a major cultural hub or a folk festival or a village fair in India which is not frequented by Subir. Be it Kolkata or Varanasi, Sonepur or Pushkar cattle fair, visual drama has no place on Earth to hide from Subir's ever-searching gaze.
Apart from plenty of praises from friends, fans & followers, Subir has received lots of rewards and recognition from photo agencies, clubs & enthusiasts from all across India and abroad. Starting from multiple overseas exhibitions to being published & featured by names such as National Geographic, Microsoft, Google, British airways,Lonely Planet and many more, he has been a source of inspiration & learning for photographers from diverse age groups and walks of life. Among all the gems that Indian photography has to offer, Subir has truly shone bright to become a mentor who's still eager to learn from every shot captured.Explore the Photo Gallery of Incredible India Photography by Subir Basak and get inspired.